Séminaire ESS2015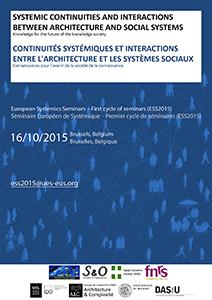 SYSTEMIC CONTINUITIES AND INTERACTIONS BETWEEN ARCHITECTURE AND SOCIAL SYSTEMS
European Systemics Seminars
Knowledge for the future of the knowledge society

CONTINUITÉS SYSTÉMIQUES ET INTERACTIONS ENTRE L'ARCHITECTURE ET LES SYSTÈMES SOCIAUX
Séminaire Européen de Systémique
Connaissances pour l'avenir de la société de la connaissance

16/10/2015

PROGRAM / PROGRAMME
| | |
| --- | --- |
| 08h00 | Enrolment et welcome (breakfast) / Inscriptions et accueil (petit-déjeuner) |
| 08h30 | Welcome to the Seminar : Damien Claeys, Gianfranco Minati, Andrée Piecq, Claude Lambert. |
| 08h45 | INVITED LECTURER 1 : Carlotta Fontana, Re-tracing the systemic approach in architecture, and developing working tools (Polytechnic University of Milan – POLIMI, Italy) |
| 09h30 | Jean-Jacques Jungers, The man without condition - (un)walled - (University of Louvain – UCL, Belgium) |
| 10h00 | Valentina Volpi, Mauro Palatucci, Giuseppe Marinelli De Marco, The emergent city. Interactive relational systems between public administration and citizen to foster sustainable processes of urban development (Istituto Superiore per le Industrie Artistiche – ISIA, Rome, Italy) |
| 10h30 | Corentin Chanet & David Eubelen, Haunting rhetoric, haunted epistemology : An anthropological critique of systemics in architecture and urban studies (Free University of Brussels – ULB, Belgium) |
| 11h00 | Pause |
| 11h30 | Jean-Luc Capron, The oku concept and the sequential depth (University of Louvain – UCL, Belgium) |
| 12h00 | Valerio Di Battista, Paysage : perception et projet (Polytechnic University of Milan – POLIMI, Italy) |
| 12h30 | Paul Vermeylen, The time of the metropolis : Understanding urban and systemic dynamics (CITYCONSULT, Belgium) |
| 13h00 | Walking dinner |
| 14h00 | Gianfranco Minati, The social field designed by architecture (Italian Systems Society – AIRS, Milan, Italy) |
| 14h30 | Antonio Opromolla, Mauro Palatucci, Alessandro Spalletta, The game as the central element of interactive and social systems for the transformation of the urban environment (Istituto Superiore per le Industrie Artistiche – ISIA, Rome, Italy) |
| 15h00 | Roberta Grimaldi, Antonio Opromolla, Valentina Volpi, Mauro Palatucci, Carlo Maria Medaglia, Defining a meta-design framework for knitting the emergent city elements (Istituto Superiore per le Industrie Artistiche – ISIA, Rome, Italy) |
| 15h30 | Pause |
| 16h00 | Cristina Braschi, From social movements to the coproduction of the city : the renewal of the Right to the City in the contemporary making of public spaces. The case of Madrid and Brussels. (University of Louvain – UCL, Belgium) |
| 16h30 | Ornella Vanzande & Jean-Alexandre Pouleur, Identification de la diversification des typologies de logement au service de la complexification des besoins et attentes des habitants (University of Mons – UMons, Belgium) |
| 17h00 | Abdelkader Boutemadja & Sigrid Reiter, L'approche typologique processuelle comme modèle systémique de lecture des représentations graphiques dans les concours d'architecture (University of Liège – ULG, Belgium) |
| 17h30 | Conclusion of the seminar : Gianfranco Minati, Damien Claeys, Andrée Piecq, Claude Lambert. |
| 18h00 | Dinner / Souper |
| 20h00 | INVITED LECTURER 2 : Ahmed Z. Khan, Integrated design for global ecological balance (Free University of Brussels – ULB, Belgium) |
THEME / THÈME
Human settlements and their architecture have always been spontaneously produced by human societies and cultures. They are mostly built up by a huge number of interacting conscious and unconscious acts over long periods, rather than only by individual, purposely designed acts. This complex development implies a systemic continuity between the built environment and the social systems that dwell in-between its structures, that is to say the appearance of coherent factors shared by one social system and its embodiment.
For a specific period and a specific society, those factors appear simultaneously in architecture, visual arts, music, language or religions. The continuity between the built environment and the social systems enables the emergence of specific human manifestations and behaviors. It fosters social interactions inherent to the needs of every human collectivity.
Some architectural works – specifically designed for dwelling or suiting to other particular use – enable this emergence of collective phenomena in the social realm. On this basis, the implicit project of transforming the properties of a social system can be undertook by the disciplines in charge of the design of the built environment – the central condition of this project being the acknowledgement of the complex emergence processes that constitute social systems.
De tous temps, les établissements humains et leur architecture ont été le produit spontané des sociétés humaines et des cultures qui leur sont associées. Ils ne sont pas engendrés par des actes individuels et délibérés mais résultent, plutôt, d'un grand nombre d'actes conscients et inconscients s'enchaînant et interagissant dans l'histoire de leur développement. Ce mode d'élaboration complexe implique l'existence d'une continuité entre la structure de cet environnement construit et les systèmes sociaux qu'il abrite, c'est à dire l'apparition de facteurs de cohérence communs aux systèmes sociaux et à leurs manifestations matérielles.
Pour une même période historique et une même société, ces facteurs peuvent apparaître de manière simultanée dans l'architecture, les arts, le langage ou les religions. La continuité existante entre l'environnement construit et les systèmes sociaux permet ainsi l'émergence de comportements humains spécifiques et elle favorise l'instauration de dynamiques et interactions sociales inhérentes aux besoins d'une collectivité humaine.
Certaines réponses architecturales, conçues pour être habitées et investies de manière particulière, permettent l'émergence de phénomènes collectifs au sein de la sphère sociale. Sur cette base, le projet implicite de prolonger ou transformer les propriétés d'un système social s'offre aux disciplines mobilisées autour de l'analyse et de la conception de l'environnement bâti – projet reposant sur la reconnaissance des processus d'émergence constitutifs des systèmes sociaux.
TOPICS / SUJETS
The written contribution to the theme 'Systemic continuities and interactions between architecture and social systems' may belong to every disciplines in charge of the analysis and the design of the built environment.
The main topics will be :
(1) the studies based on the diverse manifestations of the continuity between architecture and the social systems in historical or contemporary cases ;
(2) the inventory and critique of several contemporary urban strategies dealing with social targets (Smart Cities, ecodistricts, Urban renewal of industrial wastelands...) ;
(3) original doctrinal positions which understand the process of emergence as the source of the design project in the disciplines dealing with the built environment.
Les contributions au thème 'Continuités et interactions systémiques entre l'architecture et les systèmes sociaux' peuvent être issues des nombreuses disciplines mobilisées autour de l'analyse et de la conception de l'environnement bâti.
Les sujets principaux porteront sur :
(1) l'étude des multiples manifestations de la continuité existante entre les sociétés humaines et l'environnement bâti dans des exemples historiques ou actuels ;
(2) l'inventaire et la critique de certaines stratégies contemporaines de l'aménagement ou de l'urbanisme intégrant des cibles sociales (Smart Cities, éco-quartiers, rénovation urbaine de friches industrielles...) ;
(3) les positionnements doctrinaux originaux qui comprennent le phénomène d'émergence comme la source d'une démarche de projet dans les disciplines en charge de l'aménagement, de la planification, de l'urbanisme ou de l'architecture.
VENUE / LIEU
UCL – Faculté d'architecture, d'ingénierie architecturale,
d'urbanisme (LOCI)
Site de Bruxelles, Rue Wafelaerts, 47/51 – B-1060 Bruxelles
IMPORTANT DATES / DATES IMPORTANTES

Deadline for abstracts 31/05/2015


Notification to participants 30/06/2015


Deadline for full papers 30/09/2015


Deadline for inscriptions 30/09/2015


Deadline for payment 30/09/2015


ESS2015 Seminar 16/10/2015
ORGANIZING COMMITTEE / COMITÉ ORGANISATEUR


General Chair : Andrée Piecq


Local Chair : Damien Claeys, Stefan Eppe, Claude Lambert, Sylvain Marbehant
SCIENTIFIC COMMITTEE / COMITÉ SCIENTIFIQUE


Damien Claeys (Université catholique de Louvain)


Stefan Eppe (Université libre de Bruxelles)


Carlotta Fontana (Università degli studi di Milano)


Sylvain Marbehant (Université libre de Bruxelles)


Gianfranco Minati, Chair (Italian System Society)


Marie Roosen (Université de Liège)


David Vanderburgh (Université catholique de Louvain)
LINKS / LIENS


Site de l'Union européenne de systémique (UES)
[

http://www.ues-eus.eu ]


Journal Acta Europeana Systemica (AES)
[

http://aes.ues-eus.eu ]


Site de l'ASBL Systèmes & Organisations (S&O)
[

http://www.s-o.be ]


Site de l'Italian Systems Society (AIRS)
[

http://www.airs.it ]


Site de l'École Doctorale Thématique (EDT) Architecture, urbanisme, ingénierie architecturale et urbaine (UCL, ULB, Ulg, Umons) rattachée à l'École doctorale en art de bâtir et urbanisme près le F.R.S.-FNRS
[

http://www.archurb.frs-fnrs.be


Site du Fond de la Recherche Scientifique (FNRS)
[

http://www.fnrs.be ]


Groupe de contact F.R.S.-FNRS Architecture & Complexité
[

www.architecture-et-complexite.be ]


Faculté d'architecture, d'ingénierie architecturale, d'urbanisme (LOCI) de l'UCL
[

www.uclouvain.be/loci.html ]


École polytechnique de Milan, département de recherche "Department of Architecture and Urban Studies" (DAStU)
[

http://www.dastu.polimi.it ]