Colloque disegno2018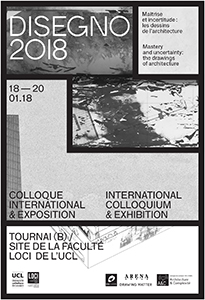 MASTERY AND UNCERTAINTY : THE DRAWINGS OF ARCHITECTURE
International colloquium and exhibition
Faculty of Architecture, Architectural Engineering and Urban Planning (LOCI) from the Catholic University of Louvain
MAITRISE ET INCERTITUDE : LES DESSINS DE L'ARCHITECTURE
Colloque international et exposition
Faculté d'architecture, d'ingénierie architecturale, d'urbanisme (LOCI) de l'Université Catholique de Louvain (UCL)
18-20/01/2018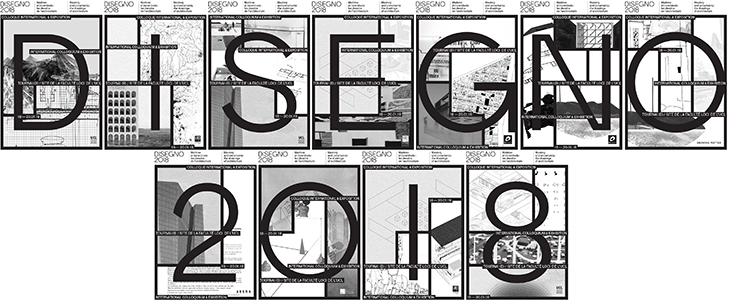 PROGRAM / PROGRAMME
18 January 2018


18:00-22:00 : Opening - ouverture + Keynote Franco Purini (TBC)
19 January 2018


08:30-09:00 : Welcome - accueil


09:00-11:00 : Parallel paper sessions and roundtables


11:30-12:30 : Keynote Daniel Estevez (F) (TBC)


12:30-14:00 : Lunch


14:00-15:00 : Keynote Olivier Houdé (F) (TBC)


15:30-17:30 : Parallel paper sessions and roundtables


19:30-21:00 : Keynote P. Haralambidou (Bartlett, UK)
20 January 2018


08:30-09:00 : Welcome - accueil


09:00-11:00 : Panel - table ronde (to be confirmed)


11:00-12:30 : Keynote Antoine Picon (F) (TBC)


12:30-14:00 : Lunch


14:00-15:00 : Keynote Paola Vigano (I, CH) (TBC)


15:30-17:30 : Parallel paper sessions and roundtables


17:30-18:30 : Closing drink - drink de clôture
THEME / THÈME
What is the locus of control of design ? Although there are many possible answers to this question, drawing is inescapable. Even so, a host of other questions emerge. For instance, if drawing is the locus of control, then what is the "work" of drawing, what is its productivity ? To what extent is the medium the message ? How should we navigate the dialectic between the slowness of iterations in physical drawing and the instantaneity of the machine ? Are we witnessing the "Death of Drawing" (Scheer, 2014 ; see also the Yale symposium of 2012) ? Is there a shift in the cartography of the discipline ? How have schools managed recent changes ? Is the profession fundamentally different now ? And how should architectural theory adapt to drawing's evolving status ?
This conference/exhibition seeks to continue the dialogue opened over the past two decades about the roles of various dispositifs, ranging from the draftsperson's mind and body (Pallasmaa, 1996) to the "distributed intelligence" supported by both manual and electronic means, both hard and soft wares.
Currently envisaged keynote speakers include : Franco Purini (I), Antoine Picon (F,USA), Juhani Pallasmaa (FI), Yves Lepère (B), Daniel Estevez (F), and Olivier Houdé (F).
Contributions, in the form of abstracts or drawings, are invited that will help us address the past, present and future of drawing as a place of exploration, decision, production, mastery and uncertainty in architectural design. Particularly encouraged are contributions that are attentive to links between theory and practice.
Quel est le lieu de la maîtrise de la conception ? S'il y a de nombreuses réponses possibles à cette question, on ne peut contourner le dessin. Et si le dessin est ce lieu, quel « travail » effectif y est accompli ? Dans quelle mesure le médium est-il le message ? Comment naviguer dans une dialectique entre la lenteur des itérations du dessin physique et l'instantanéité de la machine ? Sommes-nous témoins de la « mort du dessin » (cfr. Sheer 2014, Symposium de Yale en 2012). Y a-t-il un glissement dans la cartographie de la discipline ? La pratique professionnelle est-elle fondamentalement différente aujourd'hui ? Comment les écoles gèrent-elles ces récents changements ? Et comment la théorie de l'architecture devrait-elle s'adapter à l'évolution du statut du dessin ?
Ce colloque / exposition vise à poursuivre le dialogue ouvert ces deux dernières décennies à propos du rôle des divers dispositifs du dessin, allant des rapports entre le corps et l'esprit du dessinateur (Pallasma 1996), à l' « intelligence distribuée » portée tant par les visées manuelles et informatiques, que par le « hard- » et le « software ».
Les conférenciers actuellement envisagés sont : Franco Purini (I), Antoine Picon (F,USA), Juhani Pallasmaa (FI), Yves Lepère (B), Daniel Estevez (F), et Olivier Houdé (F).
Les contributions prendront la forme d'abstract et/ou de dessin, et situeront le passé, le présent et/ou le futur du dessin comme lieu d'exploration, de décision, de production, de maîtrise et d'incertitude dans la conception de l'architecture. Sont particulièrement encouragées les contributions attentives à lier théorie et pratique.
TOPICS / SUJETS
Dimensions that might be important include :
(dis)order
(dis)continuity
mastery vs. lack of control
determination vs. randomness
(im)precision
(un)certainty
the (ana)logical component of drawing
scale(lessness)
framing
authorship of collective drawing
Empirical areas to be addressed could include :
first and last drawings
construction drawings
competition drawings
renderings
physical and computer models
"real" and "virtual" worlds
VENUE / LIEU
UCL – Faculté d'architecture, d'ingénierie architecturale,
d'urbanisme (LOCI)
Site de Tournai, Rue du Glategnies, 6 – B-7500 Tournai
IMPORTANT DATES / DATES IMPORTANTES


Deadline for abstracts 01/06/2017


Notification to participants 31/07/2017


Deadline for full papers 31/10/2017


designo2018 18-20/01/2018
ORGANIZING COMMITTEE / COMITÉ ORGANISATEUR
Frédéric Andrieux, Guilhem Chuilon, Damien Claeys, Jean-Pierre Couwenbergh, Pauline Fockedey, Corentin Haubruge, Joëlle Houdé, Jean-Jacques Jungers, Alexandre Nowicki, Cristian Panaite, Marie Pirard, David Vanderburgh, Eric Van Overstraeten
SCIENTIFIC COMMITTEE / COMITÉ SCIENTIFIQUE
In progress.
LINKS / LIENS


Site of the international colloquium and exhibition designo2018
[

https://www.aanmelder.nl/disegno2018 ]


Faculté d'architecture, d'ingénierie architecturale, d'urbanisme (LOCI) de l'UCL
[

www.uclouvain.be/loci.html ]


Site de Drawing Matter
[

https://www.drawingmatter.org ]


Site de ARENA - Architectural Research Network
[

http://www.arena-architecture.eu ]


Groupe de contact F.R.S.-FNRS Architecture & Complexité
[

www.architecture-et-complexite.be ]